7 Inch Stove Pipe
Economical, high quality stove pipe (also called connector pipe) used to attach a stove to a chimney. This regular 24 gauge stovepipe is for Wood, Oil, Coal, or Gas fuels. The smaller the gauge, the thicker the metal. 24 is the accepted standard.
24-Gauge

Three stovepipe screws create secure connections between pipes.

18" clearance to combustibles

National code prohibits enclosed pipe installations

National code requires stovepipe to exit the room that it originates in, prohibits stovepipe from penetrating combustible material
12" Straight Pipe
Self-locking pipe presses together until it snaps. No tools needed to close seams. Joint can be cut to any length.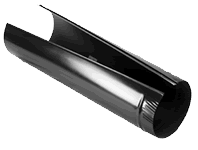 7" x 12"

$8.49

C4090825
24" Straight Pipe
Self-locking pipe presses together until it snaps. No tools needed to close seams. Joint can be cut to any length.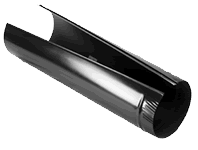 7" x 24"

$16.99

C8225559
Adjustable Elbow
Double seams permit each section to turn freely without any danger of becoming disconnected. Can quickly be adjusted to any straight line and a right angle.

7"

$9.49

C8226094
90° Elbow
Corrugated lock seamed, one piece construction. Lock seamed for strength and to prevent coming apart. 2 1/2" ends.




7"

$13.49

C5015300
Trim Cap
Used to close off one end of a stove pipe tee. Use of a tee cap allows for easy access for pipe cleaning.

7"

$12.49

C4570313
Increaser From 7" to 8" pipe
Easily adapts smaller stove pipe to larger stove pipe. Large end of Increaser is crimped.

7" to 8"

$21.49

C4320628
Reducer From 7" to 6" pipe
Easily adapts large stove pipe to smaller stove pipe. Small end of Reducer is crimped.

7" to 6"

$16.99

C8623001
Trim Collar
Covers excess area around flue opening. Provides a finished look to stove pipe installation.

7"

$6.99

C7295694
Oval to Round Boot
is 7" high with a 6" round end. The oval end is approximately 8-1/4" X 6-3/16".

7" to 6"

$12.49

C8545485
Tee Joint
Both sections assembled with "Snap lock" seam. Can be easily turned to make a secure lock.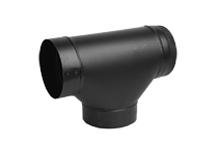 7"

$30.49

C6380828
12 ct. - Stove Pipe Screws
Screws for securing single wall pipe joints. Self-drilling black oxide screws.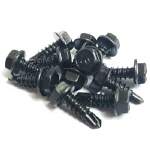 8-18 x 1/2"

$4.99

C5385554
Frequently Asked Questions About Stove Pipe
A Few Words To The Wise
1. Stick with one brand of stovepipe for connecting wood stoves to chimney. This ensures the most secure stovepipe connection. Learn why a good stovepipe connection is so important.
2. For most stovepipes 3 screws are required to fit each pipe connection tightly
3. New stovepipe and wood stove installations may smoke a little and emit an odor when first used. This is normal curing of the paint on the pipe. Allow ventilation of an open a window or door to allow the smoke and fumes to escape during the beginning of your first wood burning stove fire.

Never use stovepipe as a chimney or pass it through an unprotected wall.