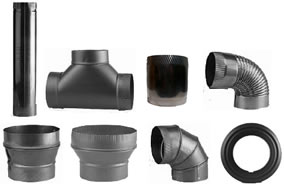 Description of available pieces
Straight Pipe
is entirely self-locking. No tools needed to close seams. Put together by simply inserting tongue on one edge and pressing together until it snaps. Joint can be cut to any length without destroying the lock.

90 degree Elbow
- Corrugated lock seamed, one piece construction. Lock seamed for strength and to prevent coming apart. 2 1/2" ends.
Reducer
- Easily adapts large stove pipe to smaller stove pipe. Small end of Reducer is crimped.