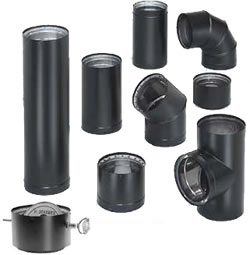 Description of available pieces
Straight Pipe -
Constructed with a stainless
steel inner wall for long-lasting performance and safety. For mobile home installation, follow the appliance manufacturer's installation instructions. Features a inner wall of .016 430 alloy stainless steel and an outer wall of .018 aluminized steel (Outside diameter is 1 1/8" larger than inside diameter).
45 degree Elbow
- Offsets obstructions as needed. Elbow is not adjustable.
90 degree Elbow
- Angles DVL pipe towards the chimney's thimble or the appliance flue outlet. Elbow is not adjustable. Not recommended for rear exit appliances.
Stovetop Adaptor (Starter Pipe) -
Connects DVL pipe to the appliance flue outlet. The overall height of the adaptor is 4 3/4". When the male end is properly seated into the flue outlet, 4" of actual connector length will remain. Item is available with optional damper.
Tee with Clean-Out Cap -
Use with rear exit appliances and appliances that require a barometric damper.
Telescoping Length -
Great for one piece installation. Simply adjust to the length you need. Allows one-piece installation from stove to ceiling support box or finishing collar. Available in 29"- 48" and 40"- 68" extensions. Easy to install, no cutting required.
Adjustable Length Pipe -
Double Wall Stove Pipe cannot be cut and still provide a proper connection to an adjoining piece of pipe. Available to achieve pipe length requirements not attainable with fixed lengths of DVL. There is approximately 3" of adjustment on the 6" length and 7" of adjustment on the 12" length of pipe. All pieces must have a minimum 1" overlap with all connecting pipe.
Increaser -
Use to increase from a smaller appliance flue outlet to a larger diameter chimney or stovepipe.