Wood Stove Thermometer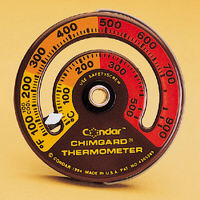 Magnetic Stove Thermometer eatures five colors of temperature zones so you'll know exactly how hot your wood burning stovepipe is running. Installation is easy using a magnet.
Durable genuine porcelain enamel

Shows safe temperatures at a glance

Temperatures up to 900° Fahrenheit (500 Centigrade)

Rugged steel case for long life

Place on second piece of connector stovepipe linking wood stove to chimney as circled in yellow (above).