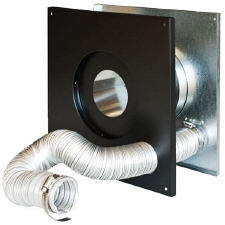 3 Inch DuraVent PelletVent Pro Wall Thimble Air Intake Kit
4 Inch DuraVent PelletVent Pro Wall Thimble Air Intake Kit
Allows outside fresh air for combustion through the wall thimble without having to cut a second hole into the wall. Comes with an insulation ring to reduce air infiltration where the pipe slips through the thimble. The 2" diameter, 18" length flex hose expands to 5'. Clamps included.

Please note: The DuraVent PelletVent Pro Pellet Stove Pipe Kits will require extra parts such as straight pipe, tees, elbows, etc. to complete an installation. These kits contain parts to make installation to a specific situation easier. Always plan your work and buy everything you need before beginning installation to save time and headaches.
Additional Information
Installation Instructions for Dura-Vent PelletVent Pro
Combustion Air System for PelletVent Pro Manual
Examples and Diagrams of typical PelletVent Pro installations

Please note: For safety considerations and ease of installation follow these guidelines:

1. Download and read the Installation Instructions for Dura-Vent PelletVent Pro. This manual will answer most questions regarding installation. Also consult your pellet stove manual for specific information regarding outside air or other issues specific to your pellet stove or insert.
2. It is your responsibility to comply with all local fire codes regarding installation of the stove, pipe and any options or accessories. Read the stove or insert manual carefully regarding assembly and installation. Always use common sense and good construction/installation practices. If you feel unsure about any installation issues we recommend you consult with a licensed contractor, building official or fire marshall.
3. Never mix and match different brands of pellet stove pipe. The connection will most likely differ from Brand X to Brand Y and may cause leaks.
4. Never use "regular" single wall or double wall stove pipe for pellet stoves or inserts. Burning pellets causes a more corrosive environment and "regular" stove pipe will not last.
5. In the United States the minimum clearance to combustibles from PelletVent Pro is 1" for oil, pellet, corn or other biofuel applications.
6. Sections of pipe are connected to each other by pushing them firmly together and twisting. Screws are not required. However, if screws are desired, use 1/4"-long sheet metal screws. Important! Do not penetrate the inner liner with screws.
Return to top of page
M&G DuraVent provides no warranty for the following professional products if such products are not installed by a trained professional installer: DuraTech®, DuraPlus HTC®, DuraChimney® II, PelletVent Pro®, DirectVent Pro®, FasNSeal®, FasNSeal® W2, FasNSeal® Flex, and PolyPro®, and M&G DuraVent's relining products including DuraLiner®, DuraFlex® (SW, Pro, 316, 304), and Ventinox®.
• Any M&G DuraVent product sold by a non-approved website will not be warranted.
• Any customer that has bought product from a non-approved website will not be given technical assistance or support from M&G DuraVent.
• Any website not compliant with this Internet Sales Policy shall not use M&G DuraVent's trademarked and registered properties, and will be notified to remove them immediately. DuraVent reserves the right to enforce its intellectual property rights against entities not in compliance with this Internet Sales Policy.