10 Inch Single Wall DuraVent Stove Pipe

Single wall stove pipe is ideal for installations where there is a minimum 18" clearance from the stove until it enters the chimney. For an economical, drip-free, single-wall stovepipe, DuraBlack is an excellent choice. Built to high standards, DuraBlack is constructed with die-formed end fittings. Adjustable lengths eliminate the need for cutting and crimping. Please note: All of the Black 10 inch DuraVent DuraBlack Single Wall Stove Pipe on this page is 24 gauge.

24 gauge
Spot-welded lock seams
18" clearance to combustibles

24" Straight Pipe
Use for a single-wall connector pipe. Requires 18" clearance to combustibles.

| | | | |
| --- | --- | --- | --- |
| 10" x 24" | Ocp69093 | $85.54 | |






90 Degree Elbow
Offsets obstructions as needed. Elbows angles are now adjustable. Adjustable elbows are manufactured drip free so creosote travels back to the stove as intended. Not recommended for rear exit appliances.

| | | | |
| --- | --- | --- | --- |
| 10" | Ocp69103 | $109.45 | |




Slip Connector
Use to adapt DuraBlack pipe to ceiling support box or finishing collar. Adds 3" - 13" of length to rigid pipe. Allows drip-free installation without cutting the pipe. Can be used in line to create a telescoping combination when used with a straight length of pipe. Requires screws.

| | | | |
| --- | --- | --- | --- |
| 10" | Ocp69101 | $62.29 | |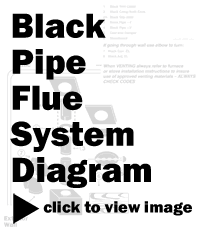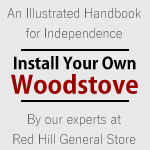 1. Stick with one brand of stovepipe for connecting woodstoves to chimney. This ensures the most secure stovepipe connection. Learn why a good stovepipe connection is so important.
2. For most stovepipes 3 screws are required to fit each pipe connection tightly
3. New stovepipe and woodstove instalations may smoke a little and emit an odor when first used. This is normal curing of the paint on the pipe. Allow ventalation of an open a window or door to allow the smoke and fumes to escape during the beginning of your first wood burning stove fire.

Never use stovepipe as a chimney or pass it through an unprotected wall.
M&G DuraVent provides no warranty for the following professional products if such products are not installed by a trained professional installer: DuraTech®, DuraPlus HTC®, DuraChimney® II, PelletVent Pro®, DirectVent Pro®, FasNSeal®, FasNSeal® W2, FasNSeal® Flex, and PolyPro®, and M&G DuraVent's relining products including DuraLiner®, DuraFlex® (SW, Pro, 316, 304), and Ventinox®.
• Any M&G DuraVent product sold by a non-approved website will not be warranted.
• Any customer that has bought product from a non-approved website will not be given technical assistance or support from M&G DuraVent.
• Any website not compliant with this Internet Sales Policy shall not use M&G DuraVent's trademarked and registered properties, and will be notified to remove them immediately. DuraVent reserves the right to enforce its intellectual property rights against entities not in compliance with this Internet Sales Policy.