Minuteman C-51MC Black Oval Tub with Lid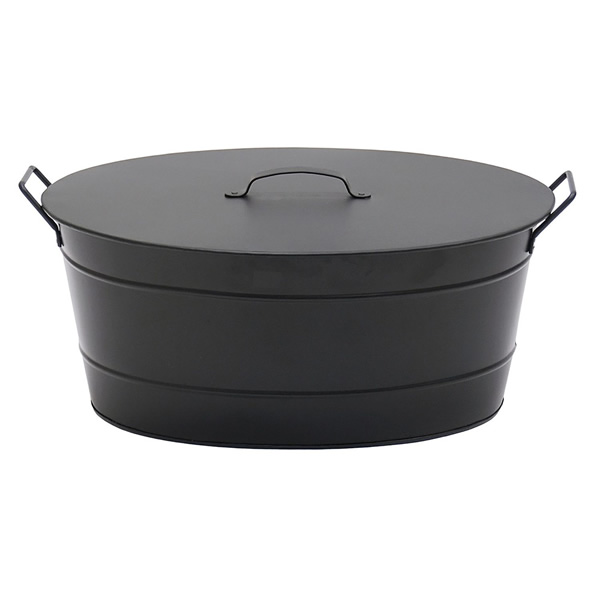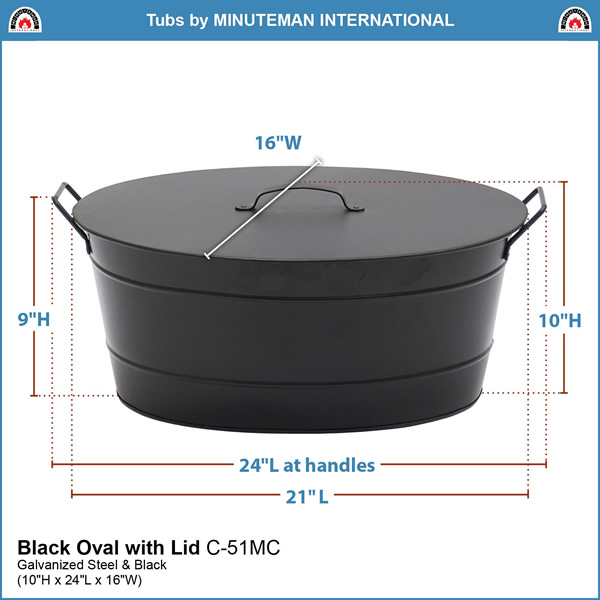 Minuteman C-51MC Black Oval Tub with Lid

Please note: We cannot ship this item to Alaska, California, Hawaii, Puerto Rico or Canada
Achla Designs has a variety of galvanized steel tubs featuring the classic design that makes them perfect for a variety of decorative and functional purposes. These are the same steel tubs that you can find on farms across the country because of their versatility and durability. We apply a black, powder coat finish on top of the galvanized steel, making this the perfect tub for holding firewood. This black steel tub with lid looks fantastic sitting on the hearth next to the fireplace or wood furnace, and it is the perfect size for holding firewood, pellets, newspapers and kindling while keeping the hearth tidy.
TRADITIONAL FARMHOUSE TUB DESIGN FOR FIREPLACE for the hearth- This Black oval Log Bin is based on the old-fashioned galvanized metal washtubs and buckets that are ubiquitous on every farm, a classic style for a fireplace accessory. Add a traditional element to your home or fireplace decor.
POWDERCOATED METAL- Made of galvanized steel with a classic banded pattern, attractive profile, and black powder coated finish.
GENEROUS PROPORTIONS – As a fireside wood holder, the Black Bin can hold enough firewood for a long cozy evening. Easy access, as logs can be arranged standing on end, or stacked horizontally. 21-in L x 15-in W x 9-in H.
VARIETY OF USES –Ideal for storage of logs, newspaper and kindling or wood pellets at the hearth, this large bin neatly contains bark, dust and debris. Two side handles make it easy to transport. The addition of a lid will keep your hearth looking tidy.
Material:
Steel
Assembly Required:
No
Minuteman Product Number:
C-51MC