Chimney Sweep Brush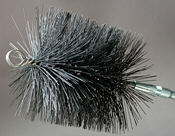 Use the following guide to select the proper
Chimney Brush for your chimney.
Measurement Instructions:
Measure the
inner
opening (both directions) of your fireplace or woodstove chimney.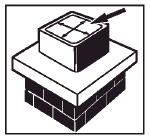 For masonry chimneys you'll need to measure the inner opening dimensions in both directions. Buy a brush that is at least as big as your chimney liner otherwise it will not reach the side walls of your chimney and won't do an adequate job. If you buy a chimney brush that is too big then it will be harder to get down the chimney but will work unless excessively oversized.
6 inch Chimney Brush
A47626
$20.99

---
7 inch Chimney Brush
A47627
$21.99

---
8 inch Chimney Brush
Economical but effective line of round chimney brushes. Ideal for annual or semi-annual use. Round wire bristle brush is designed for homeowners use in cleaning their chimney. The bristles are stiff, oil tempered in an open single spiral design. The connector has 1/4" pipe threads for easy coupling.
These chimney brushes require an extension rod with 1/4" pipe threads.
You may also use a Chimney Brush Pull Ring
to allow attachment of a second pull rope to the chimney brush.